I've been putting off writing a real blog post for the last few days because I have so many different posts I want to write and can't seem to just pick one and go with it. I'm not good at making decisions. But here goes.
I am so glad last week is over. I started the week with some weird illness that was either a stomach virus or food poisoning. Being sick always sets off my anxiety, which if you don't know about, you can read about it in
this post
. Anxiety disorder sucks sometimes (all the time). I don't really feel like explaining it, but t
his post from the Bloggess
really nails it: "I get bouts of depression and anxiety attacks the way other people get summer cold." That's really what it's like. It comes out of nowhere, I feel like crap for a few days, and then it just goes away. It's completely exhausting. Anyway. I don't feel like dwelling on it right now.
The point is, today I feel great and I'm trying to make the most of this week. I basically got nothing done last week, ate like crap, and didn't go to the gym very much. I'm making up for it this week by going strong. I planned out all of my meals for the week, went to the grocery store to buy fresh ingredients for salads, as well as all the ingredients to make really healthy chili. I went to the gym today and stayed on the treadmill for 45 minutes, upping the intensity of my intervals. Now I feel like I've been hit by a truck, but in a good way. I'm making myself go to the gym every day this week. My plan to lose ten pounds and be down to 120 is actually working. I have January 31st marked on my calendar as the goal for the halfway point of my weight loss. Which means I'm supposed to be 125 on Monday. Right now, I'm 126.2. It's going to be a challenge to get there. Especially since I usually weigh a little bit more on Mondays, after the weekend. My plan is to only have one cheat meal, which will be on Friday. I'll explain that in a minute.
Thinking about work stuff still makes me a little anxious. But I really have to step it up this week and get a lot of work done. The thing is, I just don't always feel like I'm that good at what I'm doing and I don't really have anyone to guide me. Working for yourself has many perks (sweats all day, a puppy on your lap, making your own schedule) but it comes with major challenges. I'm my own boss, so I have no one telling me how to fix things when things aren't going well. I have to totally figure out everything for myself. I just keep telling myself, if I wasn't doing a good job, they wouldn't be paying me.
I was thinking, it might be fun to do a weekly post on Mondays with my goals for the week. I'm much better with short term goals than I am with long term ones, like New Year's resolutions. So here are this week's goals:
1. Go to the gym 5 times and do 45 minutes of cardio each time.
2. Stay under my daily calorie limit each day (possibly with the exception of Friday) and record everything I eat. Keep eating low carb.
3. Be less of an asshole. My anxiety and PMS brought out the worst in me last week and I was basically a jerk to my husband. I'm making a dedicated effort to be nicer.
4. Get all my work done.
And now here are some things that I have to look forward to in the near future: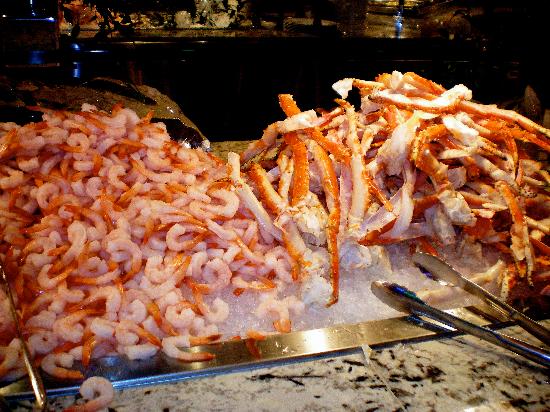 This is how much I'm going to eat on Friday.
1. My husband is off work this Friday.
2. I'm going out to dinner with my best friend for her birthday. We're both obsessed with crab legs and we're going to the all you can eat seafood buffet at the casino. It's going to look like an underwater murder scene when we're done.
3. Husband's bonus $ and tax returns. He gets an amazing bonus every year. It's how we paid for our wedding upfront, put a large down payment on our house and bought a car.
4. Pittsburgh is going to the Super Bowl. I'm not really a big sports fan, but I'll take any excuse for a party.
5. I will weigh 125 pounds soon, and then I will lose another 5. I will.
What are you plans for the week?