I have some exciting news. I'm going somewhere. Want to know where? Here are some hints:
Come on . . . Italian stallion, Italian greyhound, Italian . . . hoagie? I'm going to ITALY!
In three agonizingly long months I will be saying Adios (I don't know any italian) to America and spending 11 amazing days in Europe. Which is pretty special because I've never been off of my lovely continent before.
Why Italy and not another country? Well, I knew I had to make it to Europe before I settled down and had kids and everything. Because I hear they suck the life out of you and make you not able to do fun things.
I took a class on Italian Renaissance Art History in college and it was probably my favorite class ever. It was hardcore too, we had to memorize the name, date, location and artist of seriously hundreds of works of art. But I loved it. And I promised myself I would go see this stuff in person some day.
Because we probably won't get a chance to do something like this again anytime soon, we thought about the possibility of doing several European countries in the trip. But because we only have 11 days, a trip that hits, say, Rome, London and Paris would leave us traveling most of the trip. We'd rather totally experience one region instead of being rushed through a bunch of cities just to say we did it. As it is, the trip we're taking is going to be pretty intense, as we're exploring a bunch of different areas.
We also decided we were definitely going to do a tour. It seems much more romantic to fly by the seat of our pants, explore on our own, etc. But let's face it, we're as "tourist" as it gets. I don't understand things like exchange rates and Frank thinks we're going to get kidnapped or extorted everywhere we go. We simply would not survive without a tour guide.
We went with Insight Vacations, which is one of three tour guides that AAA works with. Contiki is their low range, Trafalgar is mid range, and Insight is the priciest. We're definitely not trying to break the bank on this trip, but we both have problems when it comes to hotels. That is to say, we're hotel snobs. I'm not the kind of girl who likes to rough it and thank God my husband isn't either. The AAA lady said that she recommends Insight because their hotels are nicer and more centrally located. A cheaper tour group might save money by booking a hotel in the suburbs of a city rather than right in the middle of the action. This becomes a problem when you have free time during the day and its not so easy to just walk outside your hotel and explore. With this tour group, we'll be able to do that. Has anyone ever gone on one of these tours?
Here's the itinerary. Let me know if you've been to any of these places or any travel advice you have!
Day 1 - DEPART USA
Board your overnight flight
Day 2 - ROME AT LEISURE
Welcome to Rome, a glorious city filled with Classical antiquities, medieval buildings, Renaissance palaces & baroque churches. On arrival at Rome's Fiumicino Leonardo da Vinci Airport, your airport shuttle service leaves for the tour hotel at 09:30, 12:30 & 15:30. Tonight meet your Tour Director for a Welcome Drink.
Hotel: La Griffe/Cicerone
Day 3 - ROME SIGHTSEEING
Enjoy an in-depth sightseeing tour with a local guide who will take you inside the Vatican Museums to gaze upon the treasures of the Popes. Enjoy clear commentary via your audio headset as you admire Michelangelo's famous ceiling inside the Sistine Chapel. Now enter St Peter's Basilica to wonder at another of his works, the emotive 'Pieta'. Then cross the Tiber to visit the Colosseum, scene of many gladiatorial contests. After seeing the Roman Forum, the rest of the day is yours to sightsee or shop. (BB)
Day 4 - ROME - ASSISI
Leave Rome & follow the valley of the River Tiber to the hills of Umbria, which form part of the Apennines. Your destination is the peaceful hill-top town of Assisi, the home of St Francis. Visit the Basilica of St Mary of the Angels, then continue up Mount Subasio to the town. Step inside the huge Basilica, built in the 13C after St. Francis' death, where the frescoes by Giotto heralded a new era in Italian art.
Hotel: Giotto/Roseo (BB,D)
Day 5 - ASSISI - VENICE
A pleasant drive leads to the romantic city of Venice, & what better way to see it than from a private launch? Cruise past Palladian churches & 13C palaces to St Mark's Square. See the Doges' Palace, connected to the prisons by the Bridge of Sighs. It was from here that Casanova made his daring escape. Now admire the mosaics of the Basilica & watch one of the few remaining masters blow molten glass into a unique creation at a Venetian glass-blowing factory. Relax & enjoy the atmosphere as you cruise along the Venetian canals by gondola.
Continental/Principe/Amadeus (BB,D)
Day 6 - VENICE - FLORENCE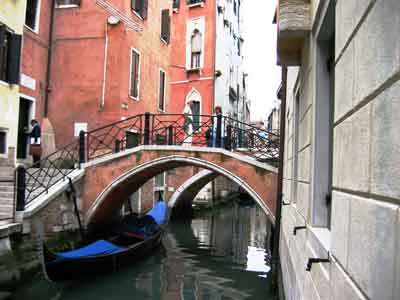 Back on the mainland, drive along the scenic Brenta Canal with its magnificent Palladian villas, once the summer residences of Venetian nobility. Cross the plain of the Po River & traverse the Apennines to reach the Arno valley. Then follow the river to the coastal town of Pisa to see the famous Leaning Tower. Time also to admire the marble cathedral and Baptistery before continuing to Renaissance Florence for a two-night stay.
Hotel: NH Firenze (BB,D)
Day 7 - FLORENCE SIGHTSEEING
Join a local guide for a walking tour of the historic city centre. A highlight is the visit to the Academy Gallery to see Michelangelo's monumental figure of David. Continue to the multi-coloured marble Cathedral to see Giotto's bell tower & 'Gates of Paradise' before visiting the Piazza della Signoria, still the political heart of Florence. The area around Santa Croce Basilica is famous for the quality of its luxury goods; see a demonstration of leather work in the very place this craft first established itself. Then, there's free time to shop for Florence's finest or continue sightseeing. (BB)
Day 8 - FLORENCE - SORRENTO
Hear an informative tutorial about the famous Chianti wines that make this region so famous as you take the smooth motorway south. Continue through the rich volcanic hills of Frascati to Cassino where you visit the Commonwealth Cemetery, overlooked by the austere monastery of Montecassino. Now follow the scenic cliff top road towards the picturesque resort of Sorrento.
Hotel: La Favorita/Grand Hotel La Pace (BB)
Day 9 - ISLE OF CAPRI EXCURSION
Investigate the art of 'intarsio' or marquetry wood inlaying before cruising to the sun-drenched island of dreams, Capri - a rock rising from the Mediterranean. Take the funicular train up to Capri Town, where you can explore the narrow alleyways, browse in the exclusive boutiques & enjoy the views over the Mediterranean Sea. Perhaps join an optional tour to Anacapri to visit Villa San Michele before returning to your hotel for some relaxation time. Why not immerse yourself in the Italian culture & work up an appetite on a traditional evening stroll (passeggiata) - it's a time to 'see & be seen'. Later you are offered a selection of local restaurants for your dining pleasure. (BB,DA)
Day 10 - SORRENTO - POMPEII - ROME
Only a short drive from the hotel lies Pompeii, the opulent Roman town which was preserved by layers of ash from the disastrous eruption of Mount Vesuvius in AD79. A walking tour with a local guide through the cobbled streets & extensive excavations reveals the daily life of ancient Roman civilisation. Afterwards, the smooth motorway leads back to the 'Eternal City' of Rome. Tonight, join your fellow passengers for a last night celebration Highlight Dinner of local cuisine, complete with wine & entertainment.
Hotel: Sheraton (BB,HD)
Day 11 - RETURN TO USA
Arrivederci Roma! Sadly, your tour comes to an end after breakfast. Departure transfers arrive at Rome's Fiumicino Leonardo da Vinci Airport at 07:00 & 09:30. (BB)
Sorry for the longest post ever! I will be spending the rest of winter staring at gorgeous pictures of Italy in springtime and learning some key Italian phrases. I'm sure I'll have a million questions, if any of you have experience traveling to Italy. Let me know!